Memorial Garden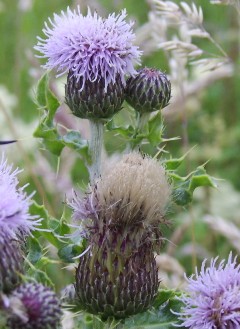 The Memorial Garden is a unique project amongst the battlefield trails in Scotland. Each plant has been carefully selected as historical evidence has suggested that they were used as badges or 'witters' to allow troops to identify which side they fought for during the battle of Linlithgow Bridge.
Medieval warfare was often a confused and viscious affair where, due to lack of uniforms, men often found themselves hacking chunks out of an unfortunate colleague. Generals would ordain on the day of battle the use of a marker to designate friend from foe. When fighting the English, the Scots simply wore a cross of St Andrew on their uniform, but when fighting each other alternative marks would be required and in large numbers. The use of foliage from a nearby tree or grabbing a tuft of prevalent shrub was often a suitable alternative. This led to families and clans selecting a particular plant as their own family badge which often then went on to appear on their coat of arms.
Fig 1 The classic example of a house badge is of course the thistle, house plant for the Stewarts and the national plant for Scotland.
The use of plants on the day was obviously decided by availibilty especially considering the time of year the battle was being fought. Some chosen house badges may not have been in bloom or not growing nearby and alternatives would have to be found. Some families like the Hamiltons and the Kennedys who fought on different sides at the battle of Linlithgow Bridge had the same plant badge - the Oak! Other familes found that different branches had different loyalties potentially again causing confusion in the ranks.
The majority of plants selected for the memorial garden are native to Scotland, although some are naturalised or historically contemporaneous to the 16th Century and derived from wild origins. It should not therefore be expected that all the plants closely resemble the 21st century garden centre derivatives with which the reader are likely to be more familiar.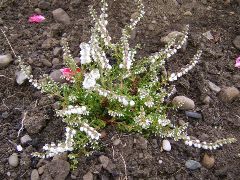 Some plants were worn not as identification but for good luck. A good example of this is 'Love Lies Bleeding' a plant reputedly given to a soldier by his sweetheart for protection.
So it can never be said for certain that the families fighting at Linlithgow would have sported their family badge on the day. However a selection of plants was made on a best guess basis and a wonderful display they make to.
Fig 2 - White heather was not only the house badge of the Elliots it was also a plant thought to bring good luck.