Transport and Amenities
How to Get to the Battlefield
Linlithgow sits on the main routes from Edinburgh to Stirling and as such has a plethora of transport connections: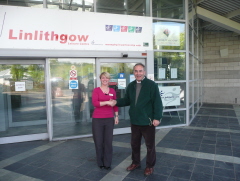 Rail - Linlithgow Station sits of the main Glasgow to Edinburgh line. Trains at peak times run every 20minutes and approximately every 35 mins during the rest of the day. When you come out of the station's main exit make your way down to the High Street. The town sites are well sign posted from there. And remember if you are coming from Glasgow the rail viaduct offers excellent views of the battlefield as it crosses over the Avon.
Bus Routes - Once in town there is a regular bus route down to the bridge.
Nos 38, 38A and 38X (from Edinburgh to Stirling)
No 42 (from Linlithgow to Falkirk)
No 46 (from Linlithgow to Bo'ness)
No 449 (from Bo'ness to Bathgate)
The Linlithgow Town Service Bus
Cycling - For the more active ones among you remember the Union Canal tow path will take you down passed the Leisure Centre to join the Avon Heritage Trail at the Avon Gorge Aqueduct. However the trail itself is only good for the more adventurous off roaders.
Car - The M9 bypasses Linlithgow today but the town is still a busy place and parking can be difficult. If you are coming in from Glasgow or Stirling its best to get off at the Polmont Junction (Jnct 4) and come in on the A803. If you are coming in from the east at busy times it may be worth avoiding Linlithgow High Street and also get off at Junction 4 then double back on yourself. If not then get off at Junction 3 and follow the A803 through town and out to Linlithgow Bridge.
No matter how you come to Linlithgow, please take time to head into the centre of town during your stay to visit the Annett House Museum and Linlithgow Palace in order to get the full story of this battle and visit all the other wonderful historic sites in and about the Burgh.