The landscape of Scotland has, over the centuries, witnessed many a bloody encounter. Some of these battlefields are still remembered today, while a few, like Bannockburn and Culloden, are marked by monuments and interpretation centres. Sadly, many more have been lost to modern development. Others have simply been forgotten. The battle of Linlithgow Bridge has suffered to a degree, on both counts. Parts of the battlefield are today covered with houses and although many people have some idea of what happened at Bannockburn and Culloden, very few have even heard of the battle of Linlithgow Bridge.

The battle of Linlithgow Bridge was a product of the power vacuum created by the death of James IV at Flodden in 1513. His young son, King James V, was kept a virtual prisoner by his self-appointed guardian, Archibald Douglas. Meanwhile the King's mother, the Dowager Queen Margaret, made a number of attempts to release him. The most dramatic of these resulted in the battle of Linlithgow Bridge on September 4th 1526.
The Queen's force of over 10,000 men, led by the Earl of Lennox, marched on Edinburgh. The advance was stalled at Linlithgow Bridge by a force of around 2500 men, led by the Earl of Arran. In the ensuing action the larger force, having crossed the River Avon not by the bridge but somewhere near Manuel Convent, got jammed in a bottleneck between the river, marshy ground and the high ground upon which Arran's men were arrayed. The arrival of the pro-Douglas reinforcements from Edinburgh sealed the fate of Lennox's army and upwards of 3000 men died in the ensuing slaughter. Lennox himself was captured and murdered by James Hamilton of Finnart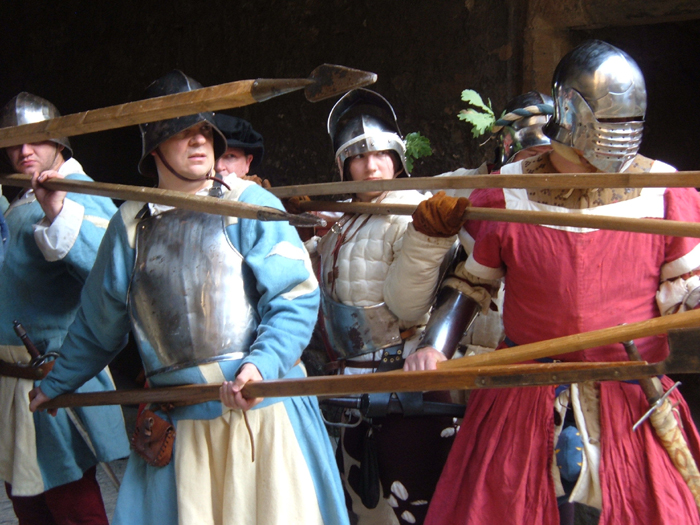 Forgoing narrative by kind permission of Tony Pollard of Glasgow University's Centre for Battlefield Archaeology.